[ad_1]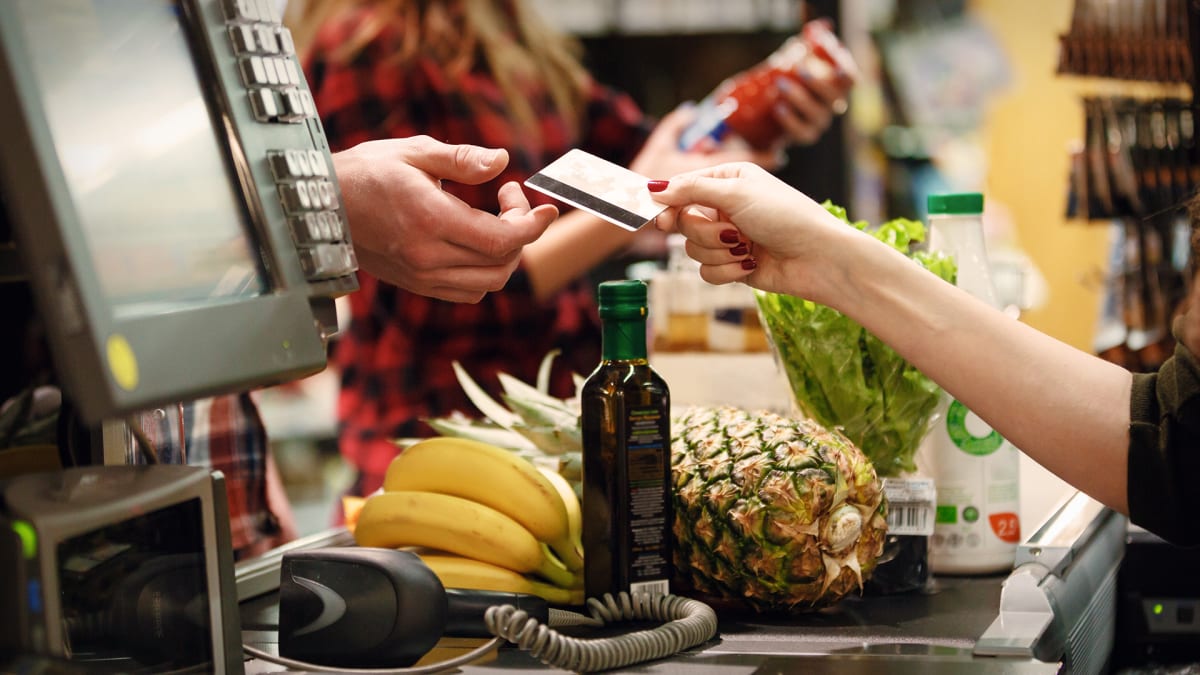 Price-monitoring website Pricelisto calculated the biggest supermarket price spikes.
When it comes to food inflation, certain foods have for months been dominating the conversation. Eggs are constantly in the headlines (at one point last year, price for a dozen were up by more than 60%) and the panic is so strong that entire businesses renting out chickens and coops started to emerge.
According to price-monitoring website Pricelisto, eggs are in fact the common grocery category that saw the steepest jump in price — at the end of 2022, their price was 32.2% higher when compared to a year ago.
READ MORE: Where Americans Are Cutting Back As Inflation Closes In
Numbers from the Consumer Price Index show that overall grocery prices were up 11.3% annually in January 2022 while eating out is 8.2% more expensive.
These Are The Grocery Items Making The Biggest Dent In Your Wallet
The next-biggest increase came in the fats and oils category — the overall price of items such as butter, margarine and common cooking oils rose by 18.5% between the end of 2021 and 2022. Historically, this category went up by an average of 3.2% a year going back to 2002.
"Supply issues and production setbacks are mostly to blame for these issues," write the study's authors. "Furthermore, these increases may also affect D.O.P. labelled products such as cheese or oils that have been imported from specific geographical zones."
Meat was a mixed bag because some types, such as beef and veal, rose by only 5.3%. Meanwhile, poultry like chicken and turkey is a whopping 14.6% more expensive while pork is up by 8.7%.
Diary products excluding "fats" like butter rose by 12% while fresh fruits and vegetables are up by a respective 7.7% and 7%. Amid rising energy costs and the war in Ukraine, wheat has also been a subject particularly prone to inflation. Bread, cereals and baked goods rose by 13% from a year ago.
"Cereals and other bakery products had a percentage change of 13%, and this is due to the rising costs of ingredients required to make them, as well as other production costs such as labor," write the report's authors.
What Are We Going To Do With Such High Food Prices?
Sugar, candy and other sweet goods are up by 10.4% while non-alcoholic beverages such as juice and soda are up an average 11%.
The numbers will obviously differ depending on specific products, geographical location and individual store but the upward tendency paints a harrowing trend even if the average increases we see every month have been trending lower since a peak in the summer.
But shoppers with less left to spend have been forced to find ways to outpace inflation. One study from Omaha-based insurance company Breeze found that 73% of U.S. households have cut back on restaurants and takeout while 57% bought either fewer or cheaper kinds of groceries.
At the same time, foot traffic at dollar stores and discount chains such as Family Dollar, Dollar General and Five Below (FIVE) – Get Free Report has been reaching new heights even as the generic products sold there have been hit by bigger price hikes than its name-brand counterparts.
"Consumers must be more conscious of where and when they spend their money," a spokesperson for Pricelisto said in a statement. "To keep costs low, families will need to shop at low-cost grocery chains; however, this could mean compromising on preferred brands."
[ad_2]

Source link