[ad_1]

A new poll could spell bad news for Tesla and other autonomous auto makers
AAA is out with a new report showing consumers are increasingly "apprehensive" about riding in self-driving cars.
The study rolls out at a time when auto giants like Tesla (TSLA) – Get Free Report, Ford (F) – Get Free Report and Mercedes (DDAIF) are in late-stage development of autonomous vehicles, i.e. vehicles that drive themselves without human intervention.
DON'T MISS: Tesla Master Plan Draws Disappointed Reviews on Twitter
Valued at approximately $25 billion in 2021, the autonomous vehicle market is expected to reach $196 billion by 2030 – if the industry can manage to tamp down fears among drivers over perceived safety issues.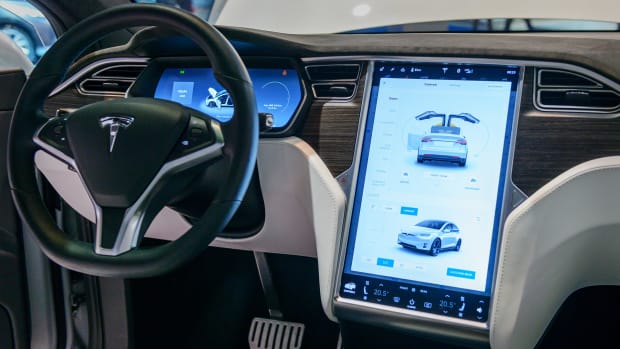 More Drivers Fear Self-Driving Vehicles
A case in point – the AAA study noted a "major increase" in drivers afraid of riding in a self-driving vehicle, with 68% of survey respondents admitting some anxiety about autonomous vehicles. That number's up from 55% in a similar AAA study released in 2022.
"We were not expecting such a dramatic decline in trust from previous years," said Greg Brannon, director of automotive research for AAA. "Although with the number of high-profile crashes that have occurred from over-reliance on current vehicle technologies, this isn't entirely surprising."
A big part of the trust issue is that consumers aren't exactly sure what an autonomous vehicle can and cannot do.
"AAA's survey found that nearly one in ten drivers believe they can buy a vehicle that drives itself while they sleep," the study noted. "Currently, there is no such vehicle available for purchase by the public that would allow someone to fully disengage from the task of driving."
Drivers Remain Baffled By Tech
The report also notes that human drivers are "confused" about autonomous vehicles already on the market.
The study noted that "22% of Americans expect driver support systems, with names like Autopilot, ProPILOT, or Pilot Assist, to have the ability to drive the car by itself without any supervision, indicating a gap in consumer understanding."
In essence, consumers seem to be confusing Advanced Driver Assistance Systems, which support human drivers with features like adaptive cruise control and lane-keeping assistance, with fully self-driving vehicles where a human driver is not required to operate or control a vehicle at any given time.
While self-driving vehicles are in the pipeline at manufacturers like Tesla and Ford, they're not available for commercial use yet. Until they do, AAA says the auto industry needs to be transparent with consumers and explain the different levels attached to autonomous vehicles.
"AAA seeks to partner with automakers to create greater consistency across the industry," Brannon said. "Together, we can help consumers understand the type of technology their vehicle has along with how, when, and where to use these systems, which will ultimately build trust in the vehicles of the future."
[ad_2]

Source link