[ad_1]

Wendy's popular menu item gets a challenge from McDonald's.
McDonald's (MCD) – Get Free Report the world's largest fast-food chain when it comes to sales, and holding that title is a big job. McDonald's arguably has the best fountain Coke you can find anywhere.
McDonalds, also has what some would argue are the best french fries you can get from any fast-food chain. Watching a commercial of McDonald's fries can almost make your mouth water even without 'smell-ivision.'
As the leader in the industry, most other fast-food chains look to McDonald's business strategies when looking to make improvements. So, when McDonald's makes a change to the menu, its usually doing it and sharing the news everywhere. So, what about when McDonald's doesn't make a big deal out of something new, what does that mean?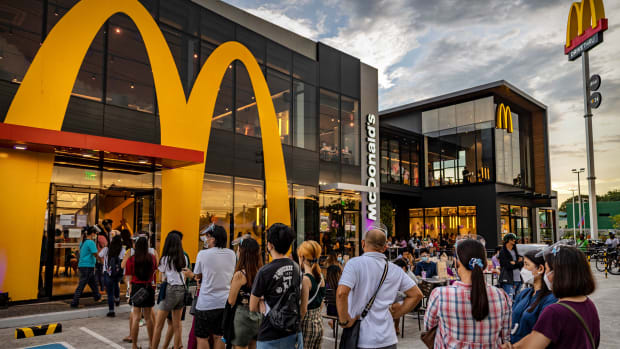 McDonald's Adds New Menu Item
McDonald's knows a thing or two about creating revenue, but revenue is nothing without a proper margin. McDonald's may be taking a page out of another fast-food's playbook by adding a Classic Lemonade to its drink menu. That may not sound like anything grand, but fellow fast-food burger chain Wendy's (WEN) – Get Free Report has been serving up delicious lemonade, and it's been a pretty good seller.
In 2022, Wendy's strawberry lemonade was ranked No. 1 on Foods Kitchen for best fast-food chain lemonade. It was also rated No. 1 by the Odyssey under Lifestyle as the best fast food restaurant lemonade, back in 2018. Clearly with at least two No. 1 rankings, Wendy's must make some good lemonade.
So why wouldn't McDonalds come after Wendy's sales for its lemonade? No joke, the margins on fast food beverages are high, so if one was looking for a way to increase profits, drink menu offerings would be a good start.
McDonald's new classic lemonade is made with real lemon juice, real sugar cane, and has bits of real lemon pulp in it. This classic drink tastes like summer is on its way. The prices may vary, but a small starting price is $1.49, and you can also get medium and large sizes as well. The lemonade will be available in store, drive thru, through the McDonald's app, and through McDelivery, according to the Fast Food Post. The classic lemonade isn't available nationwide, yet. Only time will tell if the classic lemonade will roll out to all McDonald's locations.
This lemonade sounds a bit more hands one, than just using the fountain machine. The more 'hands on' a menu item is in the fast-food industry, the more it eats away at profit margins. So, the goal may not be to go after the profit margins. Maybe the goal is to dethrone Wendy's as selling the best tasting lemonade with spring just around the corner.
McDonald's At Its Best
McDonald's fountain Coke been tested and proven to be better than everything else out there. How does McDonald's do it, the Coke is just coming out of the fountain machine right? McDonald's found the secret formula to making Coke the most delicious it could possibly be. The syrup comes in steel tanks, instead plastic bags. McDonald's also keeps the syrup chilled all the way to the fountain machine.
So, if McDonald's really wants to make some good lemonade, it's going to start with its ingredients. The ingredients aren't unique, anyone can make lemonade out of lemons and sugar. Maybe McDonald's will find that it needs to make some noise about its new menu item. If it has found a secret formula to creating the best classic lemonade, it may be from what McDonald's goes through in the process of making it.
[ad_2]

Source link