[ad_1]

Secrets are out of the bag from the Cupertino headquarters of Apple. The iPhone maker has just been granted a patent for what could turn out to be a folding iPhone in the very near future. 
CLICK TO GET KURT'S CYBERGUY NEWSLETTER WITH QUICK TIPS, TECH REVIEWS, SECURITY ALERTS AND EASY HOW-TO'S TO MAKE YOU SMARTER 
Hey Samsung, Apple could be coming after your folding phone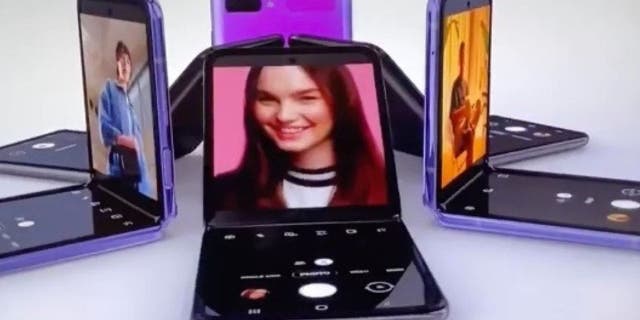 HERE'S PROOF SOME AIRLINES ARE NOT FANS OF AIRTAG TRACKERS
Details in Apple's patent file, under closer examination, show something never tried with an iPhone.  First, the designs suggest that the iPhone will fold in half.  Second, it also seems to be buttonless and touch-responsive on all surfaces. Imagine an iPhone with these newly patented features.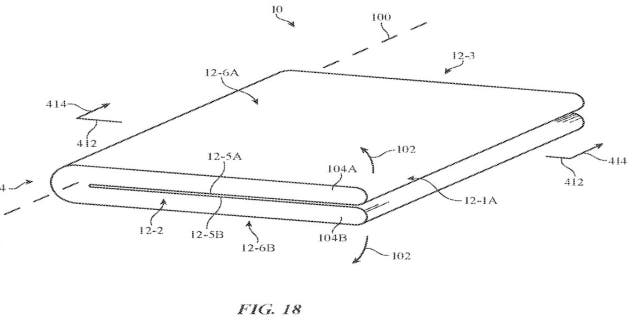 A folding iPhone with no buttons and a display on every surface 
iPhone folds in half
Front, back and sides are all continuous touch displays
Side and top buttons are now replaced with touch sensor
Only remaining port would be for power
APPLE SOFTWARE UPDATE RELEASED TO FIX IMPORTANT SECURITY ISSUE
The physical side volume and standby buttons are gone 
The patent issued February 14, 2023, contains 26 pages of revealing descriptions and black and white illustrations.  It spells out how the folding iPhone surfaces could essentially be a continuous display touch control surface on the front, back, and sides that use a touch sensor controller, much like today's current iPhone front display. 
Apple's patent says, "Portions of touch sensor layer and/or display layer may cover some or all the sidewalls of device.  For example, a continuous display may be formed from display layers on walls.." 
Slide your finger up and down the sides to adjust volume 
Instead of physical buttons, one method being considered in the patent is to simply touch the side of the iPhone, moving your finger to adjust the volume higher and lower. 
Because the iPhone would need to fold with resilience, it describes a variety of different materials being used in tandem to create "elastomeric materials," meaning that it can bend with these synthetic rubbery properties. 
HOW TO SCHEDULE A FREE PERSONAL SESSION WITH APPLE SUPPORT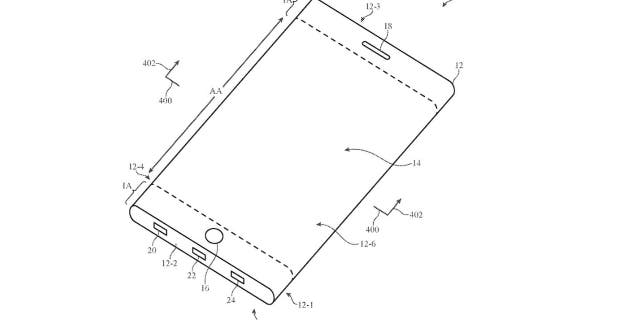 Better for gaming and quicker snapshots with "virtual shutter button" 
Allowing touch surfaces all over, including the sides and back of the device, could make it easier to control features like the camera shutter.  The shutter button for snapping photos and taking video could be reimagreined and redefined in a way that makes it easy and fast to capture a moment.  Backside touch inputs could give gamers more natural control inputs while holding an iPhone. 
Is a foldable iPad next? 
Apple could choose to implement all, none, or some of the areas described in the patent. In the past, Apple has applied for a variety of patents with little to no intention of deploying them to the market.   What filing a bunch of patents accomplishes is sending competitors into labs guessing what the Cupertino smartphone originator may do next. 
Adding folding capabilities to iPhone and iPad would boost demand, shorten upgrade windows and potentially drive in customers from Samsung and similar device makers.   Rumors continue from the most reliable predictions that 2024 might be the year we see a folding iPad introduced by Apple. 
CLICK HERE TO GET THE Online News 72h APP
Would you buy a folding iPhone or iPad? Let us know. We always like to hear from you. 
For more of my tips, subscribe to my free CyberGuy Report Newsletter by clicking the "Free newsletter" link at the top of my website. 
Copyright 2023 CyberGuy.com.  All rights reserved.  CyberGuy.com articles and content may contain affiliate links that earn a commission when purchases are made. 
[ad_2]

Source link