[ad_1]

The theme park giant has closed one of its most-loved rides and there are rumors that something even better may replace it.
Disney World already operates with a hefty dose of nostalgia. Kids may not know some of the characters featured in many of the rides, but their parents are more than happy to share their childhood favorites as a sort of rite of passage/bonding experience.
And while the Walt Disney (DIS) – Get Free Report theme park certainly has lots of rides, shows, and character meet and greets based on modern intellectual property (IP) it also has many nods to the past. Kids, for example, probably don't know the purple dinosaur Figment who features prominently at Epcot.
DON'T MISS: Disney World Improves a Controversial (But Popular) Offering
The character never had a movie or a television show. He was literally created for Epcot, back when that park first opened and the plan was for it to not feature any of the classic Disney characters. Parents, however, at least those who grew up in the 1980s, remember the character fondly as Disney opening a second theme park next to Magic Kingdom was a gigantic thing.
Other IP, however, has just become dated, That's a bit of a problem at Disney's Hollywood Studios, a park that has one ride themed around "The Twilight Zone," and a signature roller coaster starring the band Aerosmith.
"Tower of Terror," the "Twilight Zone" ride has already been rethemed to The Guardians of the Galaxy at Disneyland, but no similar change appears imminent at Hollywood Studios. "Rock 'n' Roller Coaster Starring Aerosmith," however, has closed for a lengthy refurbishment and rumors are flying that the band, which has not had a hit song since the 1990s may be replaced.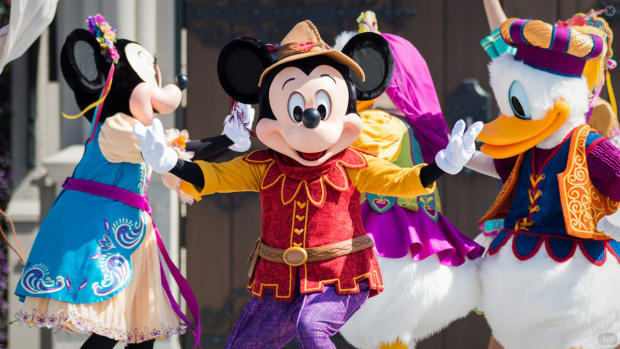 Disney's Hollywood Studios May Replace Aerosmith
Some classic rock bands get passed on from generation to generation. Bands like The Beatles, The Eagles, The Rolling Stones, Queen and solo artists including Billy Joel, Elton John, and Bruce Springsteen seem eternally popular. That's not the case for Aerosmith which had a 70s heyday, and a huge 80s and 90s comeback, but the band seems to have fallen off in relevancy, at least when it comes to younger people.
In addition, Aerosmith frontman Steven Tyler has had a long history of trouble with various substances and currently faces accusations involving the sexual assault of a minor. That could be the final straw in Disney deciding to end its deal with the band for Rock 'n' Roller Coaster, which has been widely reported as lasting until 2028.
A change may not have been planned, but with the ride closed for a major overhaul, and the lawsuit involving Tyler giving Disney a legal out, now might be when Disney updates this well-loved Hollywood Studios attraction. Now, a strong rumor has emerged that the Mouse House has decided on a new band to theme "Rock 'n' Roller Coaster" around and, well, it's a killer, even if Disney isn't under pressure to make a change.
Another Classic Ride Bites the Dust
Disney has not made any public comments on what's happening to "Rock 'n' Roller Coaster" during its lengthy closure. That has left a lot of room for rumors with the latest one making the rounds and getting a lot of attention because it makes so much sense. Disney has always been a champion when it comes to making move that will rock its hardcore fans.
"The latest rumor comes from an actor who played a sound technician in the 90s when the pre-show was created. Ken Marino recently appeared in an episode of Office Hours Live and said that Aerosmith was going to be replaced by Queen as the band that guests would rock out to on Rock 'n' Roller Coaster," Blog Mickey reported.
Marino later took to Twitter to deny that he had any inside knowledge, but a retheme of the popular roller coaster to Queen would make a lot of sense. The band has a level of enduring popularity that few bands possess and it's sort of a frozen-in-time picture since lead singer Freddie Mercury passed away in 1991.
Making this change would also be a subtle jab at Florida Governor Ron DeSantis given Queen's standing as an iconic act in the LGBTQ community.
[ad_2]

Source link