[ad_1]

AMD stock has been consolidating after the earnings report, and now Dan Loeb's Third Point fund is involved. Let's look at the charts.
Chip stocks are in focus on Friday, for more reasons than one.
First, Broadcom (AVGO) – Get Free Report is trading to new 2023 highs as the company reported better-than-expected earnings and strong guidance.
Second, Advanced Micro Devices (AMD) – Get Free Report is in focus as Dan Loeb's Third Point reportedly has a passive stake in the firm.
While we've seen a lot of activist noise in stocks like Salesforce (CRM) – Get Free Report, that doesn't appear to be the case with Loeb and AMD.
Don't Miss: Salesforce Stock Rips on Earnings. Here's the Trade
But the stock certainly enjoyed an afternoon rally on Thursday when Loeb's position was reported..
AMD stock promptly rallied almost 5% from before the news broke into the close. Of course, it helped that the S&P 500 also enjoyed a nice rally into yesterday's close.
As we look at AMD stock now, the stock is up 1% on the day. Could a larger breakout be brewing?
Trading AMD Stock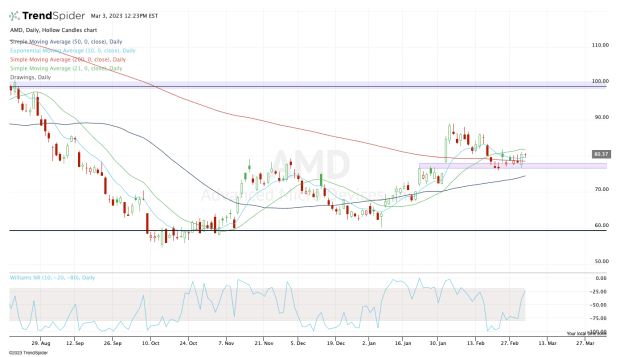 Above is the daily chart, which I want to use to highlight some of the smaller levels before turning our attention to the weekly chart below.
Notice on the daily chart how AMD has given up almost all its post-earnings gains, yet found support in the $76.50 to $78 area, which was pre-earnings resistance?
Don't Miss: Will Snowflake Stock Keep Melting? Here's Where Key Support Is
That type of action is constructive, as it gives buyers clarity on the company's recent quarter, yet provides a dip to buy on a better risk/reward proposition.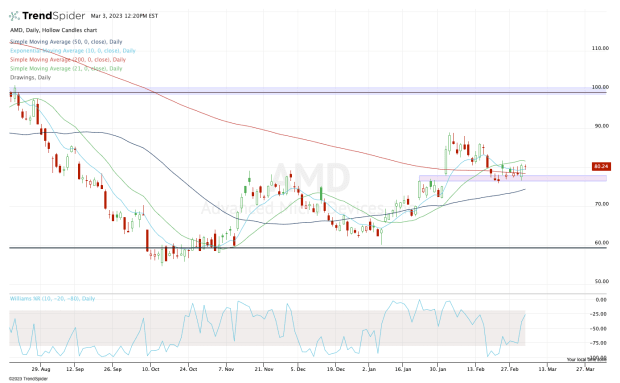 When we zoom out to the weekly chart, the setup becomes clearer. AMD stock is putting in an inside week after a very controlled pullback down to the aforementioned $76.50 to $78 area.
In this zone, we also find the 10-week and 200-week moving averages. How convenient.
Bulls would love to see AMD stock rotate over this week's high (near $81) and make a run toward $84. If the stock makes a run back toward the recent high, $89 is in play.
Above that could trigger a much larger breakout back toward $100.
On the downside, be cognizant of the gap-fill level and 50-day moving average near $75. A break of these measures — in addition to all of those mentioned above — would create an inside-weekly-down rotation and suggests that traders use caution in the short term.
[ad_2]

Source link