[ad_1]

Great Value, Kirkland, Signature Select, Husky — house brands, copied or repackaged products sold under a store's own label as cheap alternatives to name brands, have a long and storied history at retail. But perhaps no company has embraced the idea as completely and ruthlessly as Amazon has in the digital age. The corporation's Amazon Basics brand will sell you everything from diapers to dining sets, and now it's expanding into desktop PC components.
The first individual computer part to get the Amazon Basics label is a CPU cooler, a rather unassuming little number selling for $26.99 in the US. It boasts a relatively compact design for full-sized desktops, with four heat pipes and a single RGB 2000RPM 100mm cooling fan. It's compatible with the latest Intel and AMD CPU sockets: LGA 1700, 1200, 1156, 1155, 1151, 1150, plus AM4 and AM5. There's even a handy installation video for both motherboard types, with and without RGB headers.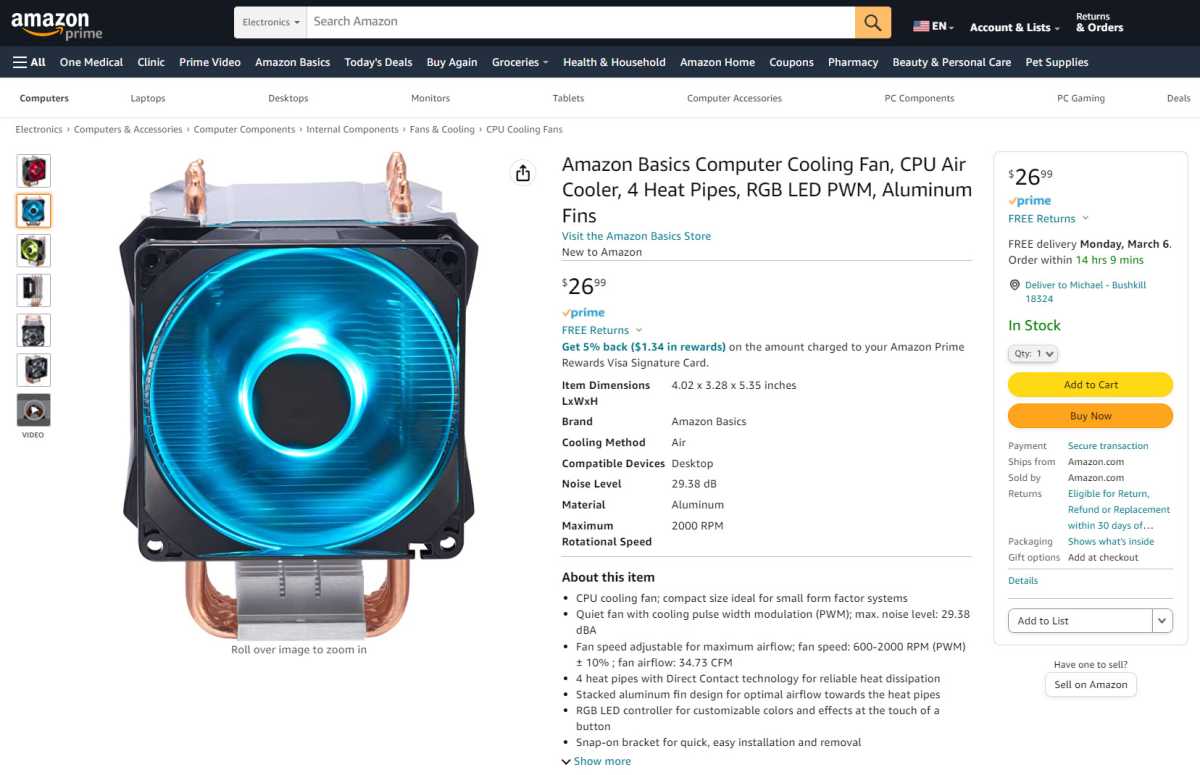 Amazon
Eagle-eyed readers might think the design looks a little familiar. As noted by Tom's Hardware, the cooler appears to be either a rebadged version of the Cooler Master H410R, or a basically perfect copy of the design, minus some cosmetic badges and about 10mm in height. Neither move would be unprecedented for Amazon. The company has previously gone directly to Chinese white box manufacturers for rebadged products, similar to retail store brands all over the world. And it's also commissioned flagrant copies of name-brand products, as in the case of Peak Design's EveryDay Sling bag.
While the Amazon Basics Computer Cooling Fan is less than half the price of the H410R on Amazon, it's hardly the only option in its price range. Single-fan coolers from Arctic, Be Quiet, Thermaltake, and Zalman meet or beat its price, as do several entries from the usual weirdo brands that exist only on Amazon and other drop shipping sites. We may or may not see Amazon offer a further variety of PC components under the Amazon Basics brand — that will probably be decided by some maddeningly complex internal sales algorithm that man was not meant to wot of.
[ad_2]

Source link